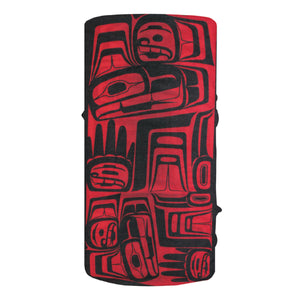 Multifunctional Headwear | Eagle Crest by Ben Houstie
Regular price
$17.99
$0.00
Our Multifunctional Headwear collection offers versatile utility for indoor and outdoor conditions. Made from moisture-wicking microfibre, this bold accessory featuring an Eagle Crest design by Bella Bella artist, Ben Houstie. It can be used to cover the mouth/nose as a mask, be worn as a bandana, scarf and headscarf. It is reusable, breathable, extremely comfy and kind to the environment. 

The Eagle is a symbol of pride and friendship. Eagle feathers are given as gifts to symbolize honour and respect for accomplishments and displays of courage and wisdom. Because Eagles mate for life, they are also admired for their long term commitments.
Dimensions: 19.5" x 10"  
Material: 100% polyester. Wash daily in hot water or on sanitation cycle of you washing machine. Air dry or machine dry on low heat. Do not bleach.
Each item comes with information on the artist, designer and the design and arrives packaged ready-to-wear. 
Please note this headwear is not a medical device and should be used in conjunction with good hand washing habits and hygiene practices as well as social distancing. This item is made for individual, personal use only.
Licensed reproductions with royalties paid to every artist.
---
Share this Product
---
More from this collection