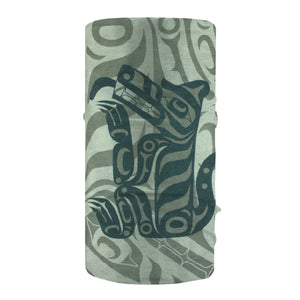 Multifunctional Headwear | Wolf by Kwakwee Baker
Regular price
$17.99
$14.00
Our Multifunctional Headwear collection offers versatile utility for indoor and outdoor conditions. Made from moisture-wicking microfibre, this bold accessory featuring a Wolf design by Kwagiulth/Squamish/Tlingit artist, Kwakee Baker. It can be used to cover the mouth/nose as a mask, be worn as a bandana, scarf and headscarf. It is reusable, breathable, extremely comfy and kind to the environment. 
The Wolf can be considered a symbol of leadership and intelligence. The wolf people shows us strength in relationships and the importance of strong family values.  Wolves live and hunt in packs or family groups.
Dimensions: 19.5" x 10"  
Material: 100% polyester. Wash daily in hot water or on sanitation cycle of you washing machine. Air dry or machine dry on low heat. Do not bleach.
Each item comes with information on the artist, designer and the design and arrives packaged ready-to-wear. 
Please note this headwear is not a medical device and should be used in conjunction with good hand washing habits and hygiene practices as well as social distancing. This item is made for individual, personal use only.
Licensed reproductions with royalties paid to every artist.
---
Share this Product
---
More from this collection