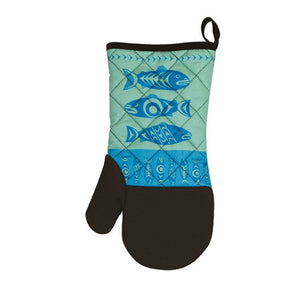 Neoprene Oven Mitt | Salmon in the Wild by Simone Diamond
Regular price
$17.99
$15.00
These fully insulated, high quality neoprene oven mitts are heat-resistant, non-slip and waterproof making them an essential item for cooking on the coast! This oven mit features a Salmon in the Wild design by Coast Salish artist Simone Diamond.
The Salmon and its eggs are a symbol of abundance, transformation, wealth and prosperity because Salmon is the primary food source for Northwest Coastal people, representing the ability to provide for your family. Salmon are Supernatural beings who give up their life to feed our people. We hold them in high esteem and honour their return every year.
Dimensions: 14" x 6.5"
Material: Neoprene and 100% Cotton. Protects up to 400 degrees F. Machine wash cold. 
Each Oven Mitt comes with information on the artist and the design. 
Licensed reproductions with royalties paid to every artist.
---
Share this Product
---
More from this collection