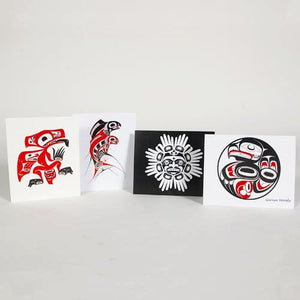 Lattimer Gallery Exclusive Card Collection
Regular price
$20.00
$0.00
A Lattimer Gallery Exclusive collection, these packaged sets feature the art (Right to left) of Nisga'a artist Isaac Tait, Haida artist Garner Moody, Gitksan artist Danny Dennis and Kwakwaka'wakw artist Beau Dick. Composed of classic colours and printed exclusively for this collection, these cards can also be custom ordered for any event, making them perfect for weddings, ceremonies and celebrations. 
The Raven is the transformer and the creator, Raven placed the sun and moon in the sky so the world would have light and also put the trees on land and fish in water. This primordial creature opened the clamshell to release the first man. He is known for his knowledge, trickery and creativity.
The Eagle is a symbol of pride and friendship. Eagle feathers are given as gifts to symbolize honour and respect for accomplishments and displays of courage and wisdom. Because Eagles mate for life, they are also admired for their long term commitments.
The Salmon and its eggs are a symbol of abundance, transformation, wealth and prosperity because Salmon are a primary food source for Northwest Coastal people, representing the ability to provide for your family. Salmon are Supernatural beings who give up their life to feed our people. We hold them in high esteem and honour their return every year.
The Lattimer Gallery logo (Hands of Friendship) was designed by Beau Dick in 1986 and it is a representation of friendship, something to which we all aspire. The Sun Chief is the provider of healing energy and life, put into the sky by Raven and the rays are a means of travel between earth and sky. The light brings everyone together: the sun and the hands. There are four pairs of hands to represent the four seasons and directions. The face in the centre of the design is one of strength and the star in the forehead is the link between day and night
Dimensions: 5" x 4 1/4"
Envelope colour: White 
Materials: Paper. 
Each set comes with 3 cards in each design, information on the artist and design as well as envelopes. 
MADE IN CANADA 
At Lattimer Gallery we work directly with our artists to provide the highest quality, authentic art from across British Columbia. Please contact us if you require a custom number of cards. 
Licensed reproductions with royalties paid to every artist. 

---
Share this Product
---
More from this collection