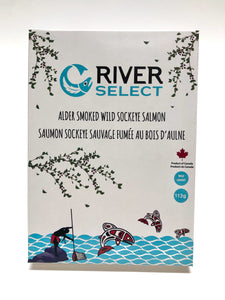 Alder Smoked Wild Sockeye Salmon by River Select Cooperative, Northern Secwepemc and Tsilqhot'in First Nations
Regular price
$16.00
$0.00
Connecting Indigenous fishing communities across the bountiful rivers of British Columbia, River Select Cooperative draws from countless generations of First Nations experience to selectively and sustainably harvest the highest quality fairtrade wild salmon. Their community of fisheries conserve our natural world by respecting strict measures around selective fishing and quality control, placing the needs of our rivers and the life it holds first. 
This beautiful Alder Smoked Wild Pink Salmon brought to you from the Northern Secwepemc and Tsilqhot'in First Nations is luscious and smokey, bringing an authentic taste of the Northwest Coast to your plate. Enjoy yourself or send as a gift with its beautiful gift box. 
Dimensions: 113g 
Each pack of smoked salmon is shelf stable and comes packaged with information about the ingredients. Scan the QR Code on the packet to find out the exact location the fish was fished and learn more about the Northern Secwepemc and Tsilqhot'in First Nations and their fisheries. 
SUSTAINABLY FISHED AND MADE IN CANADA
---
Share this Product
---
More from this collection