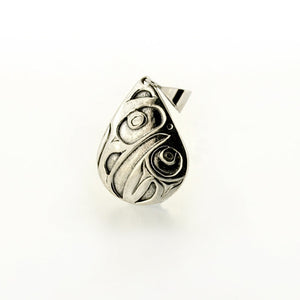 Cast Silver Pendant | Raven by Kelvin Thompson
Regular price
$65.00
$0.00
Designed by Ojibwe/Haisla artist Kelvin Thompson these cast pendants are made from sterling silver and feature a Raven design which consists of the head of the raven, plus its wing below. Pair with matching earrings to complete the look! 
The Raven is the transformer and the creator, Raven placed the sun and moon in the sky so the world would have light and also put the trees on land and fish in water. This primordial creature opened the clamshell to release the first man. He is known for his knowledge, trickery and creativity.
Dimensions: 1" x 3/4"
Metal: Sterling Silver 
Each pair of earrings comes with an artist biography and design information in a beautiful black box with our logo -  a silky ribbon and bow too! 
MADE IN CANADA
At Lattimer Gallery we work directly with our artists to provide the highest quality, authentic art from across British Columbia. Please Allow 2-3 weeks if the item needs to be custom ordered. We also offer an engraving service for that extra special touch!
---
Share this Product
---
More from this collection