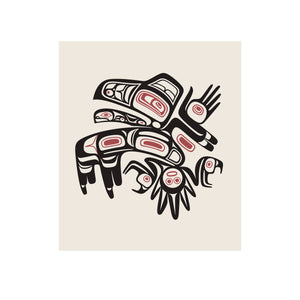 Eco Cloth | Running Raven by Morgan Asoyuf
Regular price
$6.99
$0.00
These highly absorbent Eco Cloths can be washed and air-dried 200 times, replacing up to 17 rolls of paper towel! 100% biodegradable and compostable, they are made of materials sourced from sustainably managed forests. This eco cloth is printed with our best selling Running Raven design by Ts'msyen artist Morgan Asoyuf with water based ink. 
The Raven is the transformer and the creator, Raven placed the sun and moon in the sky so the world would have light and also put the trees on land and fish in water. This primordial creature opened the clamshell to release the first man. He is known for his knowledge, trickery and creativity.
Dimensions: 6.75" x 8"
Material: 30% Cotton, 70% Cellulose. Dishwasher safe. 
Each eco cloth comes with information on the artist and design.  
Licensed reproductions with royalties paid to every artist.
---
Share this Product
---
More from this collection