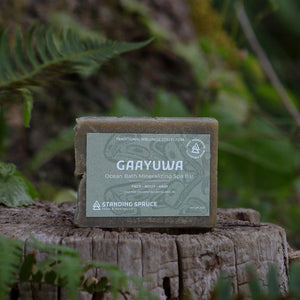 Handmade Ocean Bath Soap Bar | Gaayuwa by Lesley Assu
Regular price
$13.50
$0.00
"GAAYUWA translating to the rough ocean water in the Haida language of my homeland. Being away from the Haida islands, I aimed to developed a recipe to remind of home.Like the ocean The soap itself changes in colour depending on the temperature from light green to dark and we don't judge it. Packed with Sea salt , seaweeds and kelps it's mineral rich and detoxifying , a hard bar with beautiful slip and lather, holding a subtle bright fragrance of clary sage and hints of ocean breeze."
Handcrafted by Haida witch and herbalist, Lesley Assu this rustic yet luxurious soap bar - Gaayuwa - is delicately sensated with oils of cedar and west coast suggest trees and citrus. Bright, invigorating and moisturizing with farm tallow and fats this bar is long lasting and impactful. 

This green beauty's colour comes from antioxidant, anti-inflammatory, and healing seaweeds, kelps, and algae's.
White clay gives it a smooth hand-feel, soothing slip, and body to hair. Sea Salt hardens the bar while mineralizing and softening your skin and easing your scalp creating big beachy hair. I created this soap with solitude and camping in mind. I wanted the perfect green to convey a fresh fragrance that reminded me of the the trees and Ocean. Something simple that would take me back to a time when I would use one all purpose soap in my daily river or lake baths. There is something special about bathing in fresh bodies of water surrounded by trees, and something special about the simplicity of one useful bar of soap. Minimalist, not drying, not stripping, Just Refreshing. Always made with moon water.
No palm oil. No artificial colours or fillers. No synthetic ingredients. Non drying and safe for eczema and sensitivity.
Always made with love
Standing Spruce Farm & Apothecary is an Indigenous Owned and Operated apothecary and farm founded by Haida witch and herbalist Lesley Assu. Traditionally raised in both Haida Gwaii and by her father's community of the We Wai Kai, Lesley developed deep roots to the land and sea. Her passion for traditional medicine making extends into both her farm and apothecary where (along with her family) she produced a wide range of wildcrafted products and remedies; including but not limited to: skin care, healing oils, balms, loose herbs and teas. Their farm aims to provide clean ethical meats, honey and crops not only to their family, but also to friends and their local communities. They raise heritage breed cattle, shetland sheep, pigs and chickens along with their own honey bees and food garden. Their farm is located along the beautiful West Coast of Campbell River in British Columbia.  

Dimensions: 6oz.
Ingredients: Tallow, Coconut Oil, Distilled Water, Sodium Bicarbonate. Cedar Leaves. Essential Oils of Cedar, Fir, Spruce and Litsea Cubeba. 
Instructions: Can be used on face, hair and body. 
Each soap comes beautifully wrapped with information about the maker and instructions for use. 
MADE IN CANADA
---
Share this Product
---
More from this collection