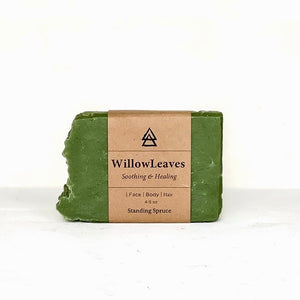 Handmade Soap Bar | Willow Leaves by Lesley Assu
Regular price
$11.50
$0.00
"Willow Leaves. Fresh and green, always found near water in rich moist soils, and clay land where little else grows. The ability to thrive despite its surrounding. Cooling and always swaying gracefully in the breeze." - Lesley Assu
Taking inspiration from the Willow Tree this beautifully handcrafted Willow Leaves Soap Bar by Haida witch and herbalist, Lesley Assu is mildly fragrant and made with sensitive skin in mind; soothing, cooling, soft and comforting.  Combining 4 different types of soothing clay to ease the skin, this soap bar also combines powdered willow leaves and bark and is fragrant with the subtle scent of green leaves and fresh forest waters. 
Standing Spruce Farm & Apothecary is an Indigenous Owned and Operated apothecary and farm founded by Haida witch and herbalist Lesley Assu. Traditionally raised in both Haida Gwaii and by her father's community of the We Wai Kai, Lesley developed deep roots to the land and sea. Her passion for traditional medicine making extends into both her farm and apothecary where (along with her family) she produced a wide range of wildcrafted products and remedies; including but not limited to: skin care, healing oils, balms, loose herbs and teas. Their farm aims to provide clean ethical meats, honey and crops not only to their family, but also to friends and their local communities. They raise heritage breed cattle, shetland sheep, pigs and chickens along with their own honey bees and food garden. Their farm is located along the beautiful West Coast of Campbell River in British Columbia.  

Dimensions: 4-5oz
Ingredients: Tallow, Coconut Oil, Distilled moon water and Lye, Willow Leaves and bark, Oxide. Rassoule. Pink, green and glacial clay. Essential Oil. 
Instructions: Can be used on face, hair and body. 
Each soap comes beautifully wrapped with information about the maker and instructions for use. 
MADE IN CANADA
---
Share this Product
---
More from this collection