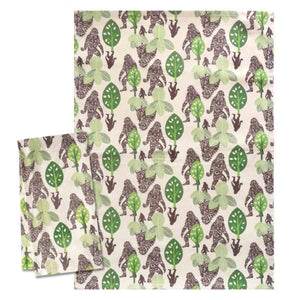 Printed Cotton Tea Towel | Sasquatch by Francis Horne Sr.
Regular price
$13.99
$0.00
Bake, brew and stir up a storm in the kitchen this winter with new editions to our Cooking on the Coast Collection. Bake to your hearts content with new silicon and beech wood spatulas, cookie cutter packs and matching cotton tea towels featuring amazingly groovy designs such as Sasquatch by Tsimshian artist Terry Starr! An essential item for cooking on the coast these easy to wash and extra absorbent tea towels add winter delight to your kitchen.
The Sasquatch is rooted in Indigenous legend and is commonly researched by cryptozoologists and enthusiasts. The word Sasquatch is believed to be an Anglicization of the Salish word Sasq'ets, meaning "wild man" or "hairy man." The Sts'ailes (Chehalis) people claim a close bond with Sas'qets and believe it can move between the physical and spiritual realm. Sasquatch has also been commonly known as Bigfoot in the Pacific Northwest of the United States.
Dimensions: 27.5" x 20"
Material: 100% natural unbleached cotton. Waterbased non-toxic ink. 
Each Tea Towel comes with information on the artist and the design.
Licensed reproductions with royalties paid to every artist.
---
Share this Product
---
More from this collection