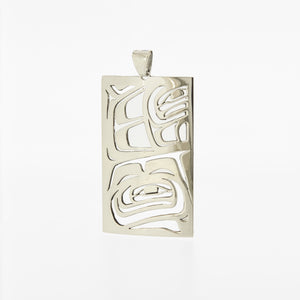 Sterling Silver Pendant | Raven Box by Grant Pauls
Regular price
$200.00
$0.00
This stunning sterling pendant is hand-made by Tahltan artist Grant Pauls and features a Raven Box design. Precision cut, this elegant formline pendant catches the light beautifully. Interested in this design but looking for a sparkle of gold? Get in touch to order your Sterling Silver and 18K Gold combination pendant. 

The Raven is the transformer and the creator, Raven placed the sun and moon in the sky so the world would have light and also put the trees on land and fish in water. This primordial creature opened the clamshell to release the first man. He is known for his knowledge, trickery and creativity.
Bentwood Boxes are unique to the Northwest Coast First Nations peoples of British Columbia and are used for ceremonial and practical purposes; from burial boxes for ancestors to storage of clothing and household items. Bentwood Boxes are made by seamlessly steam bending a plank of cedar to create the box form. Lattimer Gallery hosts a stunning collection of handmade Bentwood Boxes, check them out to find out more!
Dimensions: 1 3/8" x 13/16" with 20" Sterling Silver Chain. 
Materials: Sterling Silver 
This pendant comes with an artist biography and design information in a beautiful black box with a silky ribbon and bow too! Get in touch to find out more about our gift wrapping options. 
MADE IN CANADA
At Lattimer Gallery we work directly with our artists to provide the highest quality, authentic art from across British Columbia. 
---
Share this Product
---
More from this collection